During our two week session of sewing, we made a drawstring pouch and an embroidery.  The process of making the drawstring pouch was pretty straightforward, since we were sewing straight lines and not curves. The same goes for the embroidery, once there was an image to be embroidered the sewing machine did all the work. However, I did mess up on the embroidery because I accidentally moved the fabric when I was inspecting the sewing and so the border of the image is a bit shifted downward. 
For this week, I chose to make a T-rex plushie using fleece. Initially, when I first read the direction for the plushie it seemed pretty straight forward. Sadly, that did not last long. Cutting the fabric took longer than I expected. After cutting all the pieces needed for my plushie,  I started to sew the pieces together, and that is when I encountered my second problem. While cutting the fabric pieces, I did not register that the fleece had a" right side" vs "raw edge" resulting in me backtracking to cutting more fabric. Finally having all my pieces, I was able to sew them together. The sewing portion of the t-rex was relatively easy, except for the teeth portion of the t-rex. The instructions given for that section was a bit confusing and vague, so that part of my plushie did not come out that great. I also attempted to sew in the eyes of the t-rex, but it did not turn out as I wanted it to be, so I sewed in buttons for eyes as an alternative.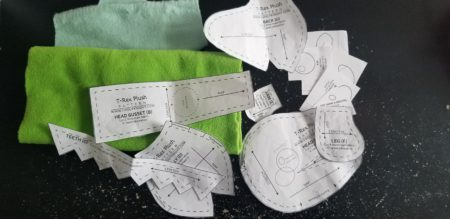 For the embroidery part of the project, I decided to add another dinosaur on the belly of the t-rex plushie. I used four different colors on the embroidery, red, white, blue, and black. The overall embroidery came out pretty good, except that the eye of the dinosaur can't be really seen.
Overall, this was a fun project to do. It honestly turned out a lot better than I expected. If I were to improve on this project, I would probably use a different stitch on the sewing machine just because some of the stitches are showing through.