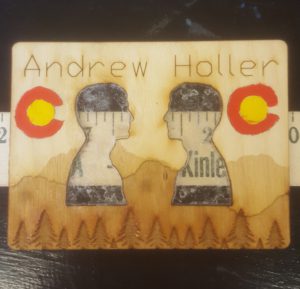 This week in Makerspace, iteration. One of the core concepts of our Makerspace course is designing, and in design one of the largest topics is iteration. Iteration is the concept of taking a project and repeatedly modifying it to gain new or different value. Our task was to take a past project of the semester and iterate upon it to create something from combining tools, mediums, and methods of making. I immediately knew that I wished to to do something with the Fab Lab's laser engraver. Since the first project of the semester, name tags (see my original below), I've been wanting to laser cut again. This was an opportunity to do that. I particularly enjoy the design and creation process of projects using the laser engraver, and it's fun to watch your project be made before you. I was excited to make it better so I began thinking of ways to use other experience from the class.
I tried thinking of what other assignments I could integrate into my project. Our assignment suggested using old 3D models that we may have. I found a 3D scan that we took of our head and shoulders (see below), and thought it would be quite fitting to have my profile engraved onto a name tag. I took a screen shot of my scanned 3D profile and included it into my design.
I reworked my old design and included more trees, a different font for my name, two layers of background mountains, and planned to paint two Colorado C's onto the finished product. I would cut the left and right profiles of my face out of the name tag and replace it with clear acrylic. I would make deeper cuts and layer/burn according to image depth. Below you'll see my results. I was very happy with how well it went. The only issue I ran into was having to use the Architecture lab's laser engraver, as the Fab Lab's was temporarily broken.
Below you'll see the final product. This was created after laser-cutting my profile out of acrylic plastic, gluing the pieces in place with epoxy, and finally painting it with some acrylic paints.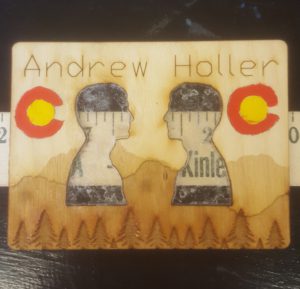 Overall, I'd have to say that the iteration on my name tag not only worked, but also made it better. The design is more robust, has more elements, but still stays simple enough for a name tag. In addition, it expresses things about my personality and where I am from. This time around I was able to apply laser depths more effectively to give the effect of image depth. I was proud of the idea of using my profiles in my name tag and I think it gives a further personal aspect to the name tag. The font for my name is a more techy font and expresses my personality better. These are all reasons that I believe I made a successful iteration of a past project. An even further iteration of the project might even include LED's to light up the profiles. However, I am proud and wouldn't change it as it is now.
Continue Reading