I participated in the Accessible Design Makeathon in place of the iteration assignment and joined Team Solestice from Vishal's class. Our goal was to create an attachable shoe tread that could be used to travel in a variety of terrains. The tread would be lightweight and one that prosthetics users could use to walk around icy terrains more safely and confidently. As the fab lab consultant on this team my goal was to become familiar with the project they had been working on all semester, help make the prototype, and to help them with the tools and resources. I attended the initial meet-up for presentation which is where I meet and talked to various teams, need-knowers, mentors, and team Solestice. I then met with them to discuss their progress, research, goals, their mentor's perspective, and to prepare for the makeathon weekend.
During the Makeathon weekend I spent 10+ hours with my team to create a useable prototype of their designs. It started off with making a tread mold out of a shoe using a ready made molding mix that we only had to add water too. The first time we did this it didn't work because it stuck to the shoe because we didn't oil or put baby powder on the shoe. The second time we used baby powder and got it to work well. Here's the result:
Then we had to fill the mold with a material that would work well with the mold, created stabilizing friction, was lightweight, and a little flexible. We were advised to use silicone or hot glue. We choose to use hot glue because it was better for black ice and creates enough friction to prevent falling. I spent about 3 hours filling the mold with hot glue. Then to smooth out the top of the mold I used a heat gun to melt and resettle the top layer. In hindsight, using the heat gun and laying glue sticks in the mold may have worked and been more time-efficient, but doing it the way we did resulted in a better prototype that filled all the small cracks in the tread mold.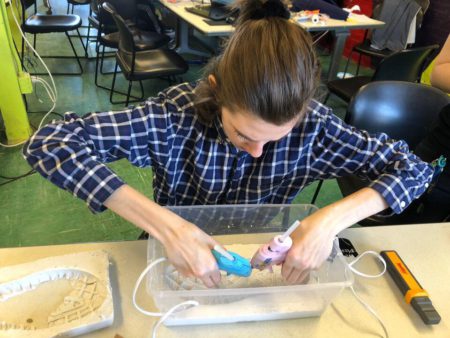 Meanwhile the other members of our team worked on the Arduino pressure sensor for the attachable tread. The Arduino would light up attached LED's to indicate how much pressure the wearer was putting on their heel. We deicide to add this component because prosthetic leg users indicated that they had trouble knowing how much pressure they were putting on it. Adding this would help maximize stability and make our product unique from other attachable shoe treads. 
After the thermal glue tread was finished we started attaching the velcro straps to the tread with hot glue. These straps were stable and tested many time to ensure maximum stability on the shoe when walking. Then we attached the pressure sensor to the back of the tread with the lights on the side. Our final prototype turned out pretty well but we ran out of time toward the end so we were unable to create an enclosure that would contain all the Arduino cords and parts on the back. Future improvements we would have made would include a 3D printed enclosure for the Arduino, a smaller Arduino board and a more aesthetic looking sensor and shoe attachments. 
We also created a poster and powerpoint presentation for the judging and presentation part of the Makeathon and were interviewed by a TV station. The product we ended up with would be beneficial for many people who have difficulty walking outside when it's icy out including prosthetic leg users, older adults, and people with brittle bones. Overall, it was a long exhausting weekend but I'm really glad that I was able to be a part of this great team and participate in this Makeathon.