Justin Franklin laser name tag
Laser Name Tag Project
  I was a little nervous before this project, because I had not worked with laser cutters before. At first I wasn't sure what to make, but I knew I should do something related to music, since I am a music major. After brainstorming about it for some time, I settled on the Idea that I should make a synthesizer name tag, because I want to go into sound design and I'm always working with sound synthesis. 
   When I first began making the design for it I wasn't sure if my idea was going to work out because I could not get a clear image of a synthesizer. Thankfully I eventually found a drawing of one, the Pittsburgh Modular Voltage Research Laboratory. I decided to raster this into the material. Originally, I completely forgot about any vectoring, so I decided it would be cool to cut holes out for the patch points and put in some little patch cables later. 
Originally I had planned on doing this with wood, but I really liked some of the acrylic examples that were shown to me so I thought I would go for that and give it a try. Luckily, there was some black acrylic in the scrap basket.
This is the tag after it first came out of the laser cutter: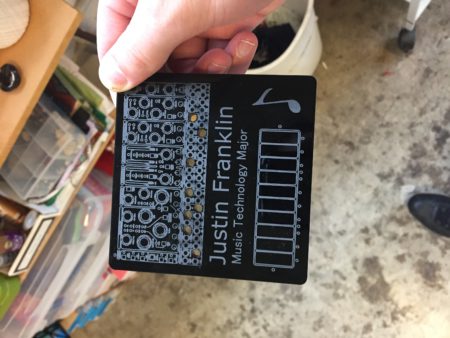 After this I wanted to make tiny patch cables for it. I initially wanted to use string, but I saw that I could use some scrap wire from the electronics section at the fab lab, so I began experimenting with it. Although it looked ok, there wasn't any way to hold the wires in the holes so I decided to hot glue them.
And this is the finished project:
   I'm pretty pleased with how it turned out, but I would do somethings differently if I did it again. One thing is the size, It is basically the full 4 inches square, which is probably too big for a practical name tag. Also, the acrylic makes it sort of heavy for its size. The music note I put on it was intended to be a different shade of rastering than the rest, although it didn't really turn out that way. All in all I thought the project was fun and it turned out neat, but if I got another chance I would make it smaller. I had a lot of fun designing and creating this and learned a few things about laser cutting.
Tags: #Assignment 1: Laser Name Tags, INFO490 Fall 2019, makerspace, Section: Duncan