For my iteration project, I decided to improve my final design from our 3-D printing assignment. The design was a bathroom organizer for my friend and I. Since I did not have a large budget, I cut the project short. It was not scaled the way I wanted it to be, nor was it sturdy enough because of the low fill. I realized the organizer could have more features than I previously thought. The second time around, I cleaned the overall shape and added more features. Here is the original design for reference.
I improved my skills on Tinkercad and Meshmixer, and I wanted to put them to the test. Using only the 3-D printer seemed lackluster, especially since it made prints all with one color. I usually cannot stay in class long enough for a print to finish, so I could not change filament to add colors. The next step was to decorate the organizer. I planned on using vinyl stickers for color, but since it would be exposed to water in the bathroom, I had to be careful. Vinyl made cleaner cuts than paint and the different colors stood out.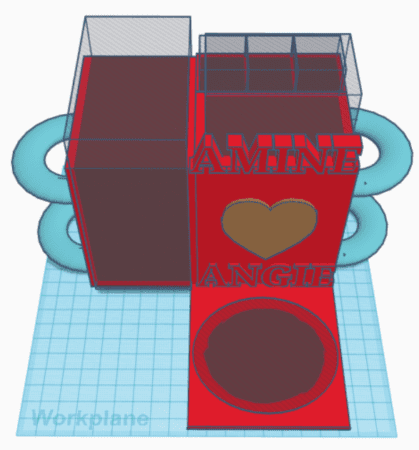 The print was done using black filament and it turned out better than the previous one in white. Unfortunately, the file was too big for one print. After printing two separate pieces, I hot glued the halves back together. The soap dispenser base was removed to show our names more clearly.
I took vinyl cuts from older projects and placed them around the organizer. Then, I made specific cuts for our names and the heart. First, I removed all the shapes that were not getting a sticker covering. Then, I brought the shapes down on the plane and exported them as an .svg file. I chose the color orange on top of black since it was bold and aesthetically pleasing.