For my iteration assignment I chose to make linen overalls with laser cut buttons. After reflecting on my previous sewing project, I wanted to start this one with measurement and pre-made patterns so there would be less guess work and alterations but I didn't find any patterns that I could buy that I liked.
So I made to plan to cut the front and the back piece and sew them together. I used clothes that I had to measure out the relative shape, but then I got scared that it would be tight so I cut the pieces pretty big. To make the pieces wearable I had to close the stitches properly and make sure the edges didn't fray. Because I cut the pieces so big I had to sew one leg, check if it fit, cut the pieces to the right size, and then seam rip to copy the sizes onto the other leg. 
It took really long to make it when I didn't cut corners. I'd like to fix the crotch but overall, I'm really happy with the way the final turned out. After I made the body piece, I made the straps (without much accuracy). 
And then I made the buttons. I knew I wanted a cloud design on the buttons (Mulan clouds from the opening credits was the image I used for my buttons). I chose wood because it went with the linen cloth I chose for the overalls but I painted to make the buttons more polished. 
This is the final product: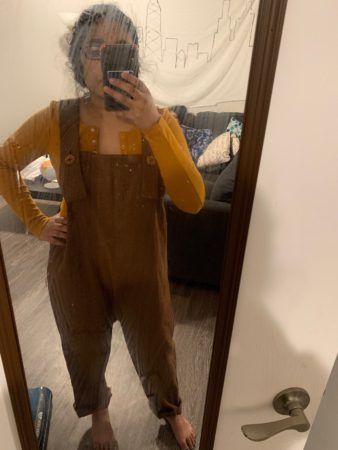 I'm really glad I did the project because I learned how to do a lot of new things. I learned how to sew on buttons, and properly close the edges of fabric. Next time I really hope I have a pattern, it would really help make things easier.