Iteration Project – Justin Franklin
In the makerspace class this week we were directed to go back and redo a project in a new way, or improve upon it somehow. I thought about this for a little while, because I didn't know what I wanted to do at first. I decided to go back and revisit my patch cable holder that I had 3D designed and printed a few weeks earlier.
I began by returning the files I had made in TinkerCad. One thing that had been a problem for me, with my first iteration was that it was too rough and not symmetrical. Also, it was was very simple. Although, I had reasons for initially designing it this way, I wanted to return and fix the details to make it better. I also thought that attaching a light to it would make it good as well, and add a new dimension to it. I began by first recreating the original design and this time making it more visually appealing by making it symmetrical. I then added some supports for the prongs so that it was  overall sturdier.
I then had this idea to create clips in the back that clip onto edges of table or such. With my first version, I didn't have anyway of connecting it to anything, and this had become a frustration. I tried attaching velcro tape to the back of it and velcroing it to he side of cabinets, but it never seemed to work. With the clips, I wouldn't really have to worry about this, and I could freely clip it wherever. I decided to just make them very simple hoping they would kind of latch onto something rather than actually clip, cause I wasn't sure how I was going to design that, with the material being somewhat brittle.
Once I had my refined desgin I sent into the MakerLab at the Gies Business College to print overnight and I could pick it up the next morning, check it out and attempt to reiterate on it, and see exactly what I would need to do about making the clips better. I felt pretty good at this stage and waited until the next day, when I recieved an email that it would be ready to pick up at 2pm. Upon arrival, I found that what had been printed was a reprint of my first version, not my new redesign. Apparently I had accidently uploaded the incorrect file for some reason, and I would have to try again, so I did. The second time, I arrived and it was not printed at all! The problem was that the project file kept failing everytime they had to print. They couldn't tell me why. So I reuploaded the file to the printer and tried a third time. The third time, I went to pick it up and although it had printed this time, An employee was trying to remove the supports and had accidentally broke it. I was getting frustrated at this point, even though someone had mistakenly broken it, the print itself looked very weird. There were all sorts of gaps and weird defects. I had to have it printed one last time, and by this time it was already Thursday, the night before I had to present this project, and still had nothing done, because I had expected to have it printed much sooner in the week. Luckily, the last time it worked, and I rushed to the fablab to work out how to create a circuit with a button and light for my cable
holder.
Unfortunately, this print was also pretty bad, but at least all the pieces where there so I had to work with it. Also, I didn't have time at this point to redo the clips or anything so I just went on to  the next thing, the light. I began by just making a very basic light circuit and lighting an LED, with a breadboard. I quickly learned that a single LED would not do the job. I asked, Emelie about it and she suggested neopixels. I wasn't a fan of this Idea because I thought that introducing an arduino device, would make this unnecessarily complicated. Instead I wanted to do a small lightbulb, but since there were none at the fablab, I had to go the neopixel route. I began by tinkering with some of the code, and quickly stumbled across some test coed for neopixel strips. at first this wasn't working at all. After talking to Brandon, I found that the code was fine, but the neopixel strips really needed to be soldered first to have a secure useable connection.
This part was tricky, because although I had soldered before, I really didn't have a ton of experience. Eventually I had to ask for some soldering tips, and learned a got a ton of great advice from Neil about it. Soon enough, after some effort, I managed to get everything soldered and my neopixels began to work. I had originally planned to use a coathanger as the bendable 'post' for my light, but I realized that the wires I had used were fairly sturdy by themselves. I also originally planned to use rubber tubing to cover them, but settled on a straw, and then wrapped electrical tape around them.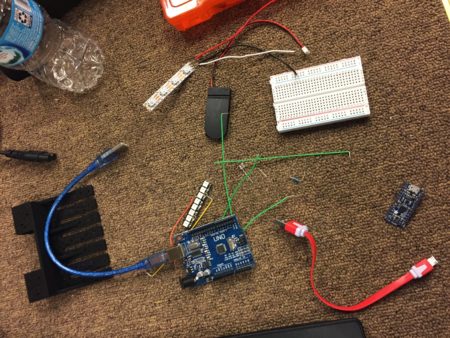 Below is the final product, which I was ultimately pretty pleased with. I didn't get to work on this as much as I had wanted, because of the printing errors I kept running into, but I think I will continue to refine it. One thing I especially want to do, is incorporate clips with springs in them for better options when hanging it up onto something. I'm glad I got to work with more arduino stuff, even though I hadn't planned to use any at first. I also learned much about soldering here, I feel more comfortable with that skill now.