Ideation: For this week, I wanted to improve my sewing skills because while I had a lot of fun during sewing week, I saw my technique had abundant room for improvement. So, I went back to the google drive folder of patterns and picked a plushie. I made bags last time, a drawstring one and one with a zipper (which was more difficult than the drawstring one). So, I decided to challenge myself and work with stretchier fabrics like felt and plush, which was a jump from working with pure cotton on the bags. The plushie also was more of a sewing challenge because it had a variety of strokes used (zigzag, straight, and basting). While I am not iterating the exact bags I made from that week, I am taking my sewing skills and techniques further by creating something more difficult and considerably different than last time.
Images of previous project:
Construction: Unfortunately, I didn't take many pictures of my build process, but I can describe the process in detail. I first cut out the pattern, and there were a lot of pieces. Then, I started sewing together the face. After that, I went ahead and put the sides and bottom together, which brought the squares to 3D. The places I had difficulty were the legs, because the fabric had to be squished a little to get lined up on both sides, so it came out a little frayed.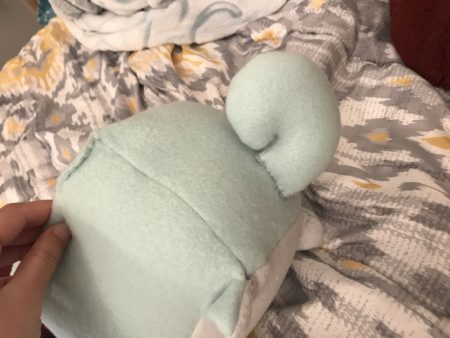 Reflection: This project was actually fun to make. The hard part was understanding some of the directions actually, which the lab assistants helped to explain and show. Also the good part was that I didn't have to start over on any of the pieces this time. I learned what y-seams, basting, and gathering / gathering stitches are. So, I feel like a more sophisticated sewer (not sure if that is the word for someone who sews yikes) than when I first began. Of course, my most favorite part was stuffing. The end result came out pretty good! I was impressed with my abilities and now I have a cute little plushie to put on my bed.