I remade the watch I tried making the first time. It did not fit my wrist, nor did it feel like a watch. I was inspired by a bangle bracelet and made a watch device like that.
This iteration, I decided to go back into the original watch face. I based my watch size on a women's watch and used SolidWorks to model that. I thought about how I could make the ban of the watch and decided to use something similar to how the Apple Watch does it.
I made multiple iterations by fixing the shape.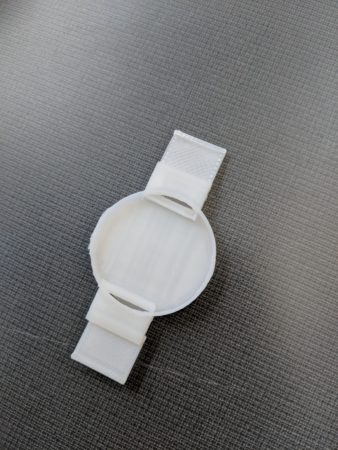 My second iteration actually let me slide the plate through. But it does not bend well, so I can wear it comfortably on my wrist. I made a third iteration that curved the flaps so it fits better on my wrist.
I also remade the chain joint because it did not fit together properly before. The chain works but the slot in the watch did not print well, so the chains could not fit through it.
I modeled it a fourth time and will update with photos! But it has that curved band on the watch and the chains will link the watch together. This iteration was better than my original one because: it fits my wrist, it has a flexible ban, and not bulky. I was aiming to make this a smart device where our phones can be on our wrist. The classic watch face is familiar and feels comfortable on just about anyone's hands which is why I went with this face instead of a curved screen bangle.
Continue Reading