Final Project
The most surprising thing I've learned and accepted this semester is that it's okay to make mediocre pieces in the process of learning a new tool. I'm someone who is used to spending a lot of time planning art projects, and being asked to come up with designs quickly — sometimes on the spot — was a totally new way of thinking for me. I learned to take myself a little less seriously, and focus more on the process than the finished product. This is invaluable to me, as growth doesn't come from a final piece, but the moments that lead up to it.  
With this conclusion in mind, I chose a final project that would be more process-intensive than anything I've done before: a fiber optic dress. This logistics of this project involved quite a lot of doodling during class and using the world around me to brainstorm. I'm proud of my idea to weave fiber optics into tulle, a mesh fabric that was lightweight, nearly invisible, and extremely conducive to holding the filaments in place. In the end, I completed a high-low satin and organza circle skirt with about 400 feet of fiber optics and 16 addressable LEDs.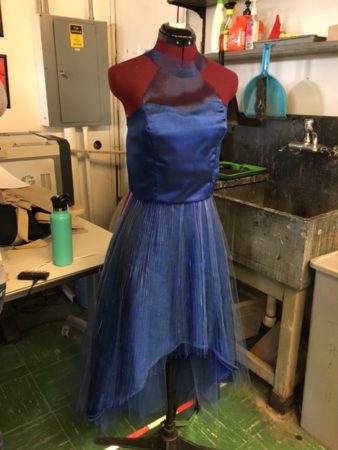 My first learning goal was learning to create more professional clothing using techniques in the lab. In my proposal, I wrote:
The serger has always been intimidating to me, and I rarely take the time to do things "right" in my own sewing projects (proper seam allowances, pressing the fabric as I go, etc.) Also, I've never had the opportunity to make a full-length dress, and I've only done one circle skirt before; here, I hope to gain more experience with shape, structure, and design of fuller garments.
I'm pleased to say that I made major progress on this learning goal! With a lot of help from Duncan, I learned how to use the serger. After pressing the hem, the outcome looked much more professional than anything I could've achieved with a fold over hem, especially on the rounded edge of the skirt.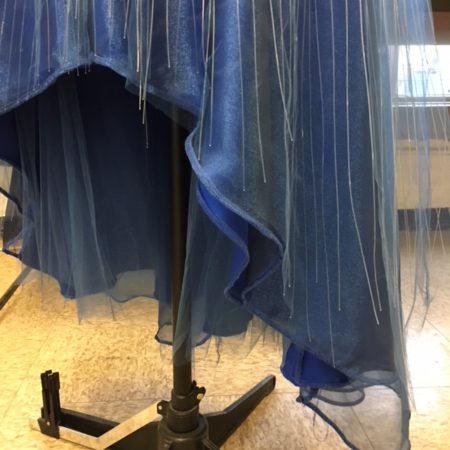 Of course, the reason I rarely do things professionally in my sewing is because it takes a lot of time, and this project was no exception. With a time limit of just a few weeks, I didn't have time to pin every seam to perfection. However, I still feel that I improved my attention to details such as seam allowance and thorough ironing, and this really improved the fit and drape of the final garment.
For my second learning goal, I wrote the following:
I want to force myself to adapt quickly, since I'll inevitably run into snags that will make my project feel impossible to complete in 3 weeks. For example, if I figure out that one of my core parts isn't working as well as expected, like the LEDs or fiber optics, I'll try to come up with a new method that still incorporates these items rather than ordering a bunch of new materials.  I likely won't be able to put as much detail as I'd like into this skirt in the timeframe given, so I'll have to dynamically re-evaluate my expectations to make sure I meet the deadline. I tend to be overambitious, so scaling down to a minimum viable product is something I'd like to practice. Accepting the fact that my final project may look nothing like my original sketch is part of this adaptation.
I was definitely correct that this was an overambitious proposal. In the case of a three-week project, "adapting quickly" turned out to mean a lot of electrical tape and pins. The final project was pinned together rather than sewn, but I was happy to trade this shortcut for a very dense, thoroughly woven fiber optic skirt. I'm glad that I learned to step back and let one component shine rather than burning out and trying to do everything. Also, the LEDs weren't nearly as bright as I was expecting them to be, which was disappointing, but forced me to be more creative with sanding down the fiber optics to release more light. It was surprising and liberating to come up with solutions like these rather than starting over with a whole new set of materials. This was a meaningful project that I've wanted to do for a long time, yet accepting that it couldn't be perfect in three weeks helped me grow.
Before this class, I would've called myself a maker without hesitation. However, the "Why I Am Not a Maker" article we read in class challenged my view on this definition. To me, a maker is someone who is laser-focused on the end goal of producing some physical object. Makers are defined by the success of their projects, not their personal growth or the growth of their community, and this is not what I want to be. After some panelists in class spoke about the intersection of social justice and fab labs, as well as the many roles a fab lab can play in a community, I no longer consider myself focused purely on the goal of creating things. If I can help someone become self-sufficient at a particular skill, or provide outreach to get a young girl interested in electronics, that will bring me a greater amount of fulfillment than showing off a finished product. Don't get me wrong — it's fun to pour your heart into an object and be proud of that finished result. But the title of maker ignores the community that enables such success. Therefore, I now think of myself not as a maker, but as a collaborator, student, teacher, and hopefully always a learner.