Final idea
My final project is inspired by Mother London's "Wildhomes for Wildlife" campaign with Ikea. 
https://motherlondon.com/work/ikea-wildhomes-for-wildlife/
Designers took Ikea furniture and repurposed it to make wacky and creative birdhomes. I want to do something similar utilizing 'woodshop tools' and 'laser printing' to make creative homes for bees. In addition to this, I want to have my 2 learning goals be really purposeful. Firstly, I want to challenge myself to use limited resources. Only using items that I can scavenge and give a second life to. I think using recycled and repurposed materials will add another level to this sustainability focused project, as well as challenge me to not take the easiest route. Secondly, I want to work on my time management. I plan to allow myself more time than I think I need, as I've underestimated the time cost of nearly every project this semester. 
Support-wise I think I will definitely need to reach for assistance with anything woodshop related. Friends & Fab Lab employees pls help. Additionally, I'll use online resources like Google and Youtube to inspire the construction of the house itself and then creatively design the outside to be aesthetically pleasing in the garden.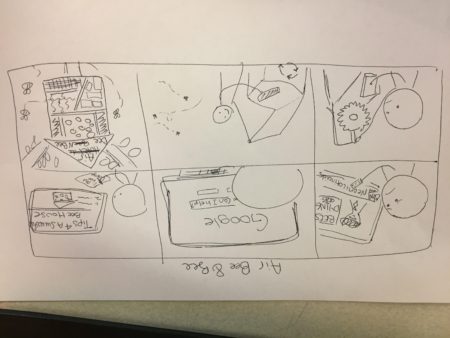 Not sure why it uploaded upside down. But I've decided to call the project "Air Bee&Bee"