Grant Projects
As a key component of the Illinois Informatics Institute the Fab Lab has worked with several units around UIUC on grant projects, including: the Center for Digital Inclusion (iSchool), I-CHASS (NCSA) and the Colearnlab and department of especial education (College of Ed).
Research Team
We currently have a working group made up of faculty, staff and PhD students from Informatics, Education and Art dedicated to understanding learning outcomes (particularly metacognitive strategies, informal learning and community engagement) in makerspace settings. The group meets on a regular basis and is open to new scholars. Contact Jeff Ginger (ginger@illinois.edu) to join.
ILSDI with Colearnlab
http://www.colearnlab.org/making
This project seeks to understand the learning processes during a project-based middle school science curriculum centered around social innovation and engineering. There are many challenges to implementing such a curriculum and we are focused on understanding the factors that influence success.
The project aims to build models of how STEAM learning and identity development occurs through project-based experiences, and begin to create a framework to drive future use of such activities, which will be expanded and tested in later projects. By understanding the processes through which students have successful learning experiences, and identifying the types of STEAM knowledge and practices that are developed through these projects, we will lay the groundwork for a larger project aimed at designing and studying such activities in a wider range of schools.
The Fab Lab is providing assistance with curriculum development and instruction for the development of Internet of Things (IoT) devices dedicated to citizen science and civic data-collection purposes.
Digital Innovation Leadership Grant (2014-16)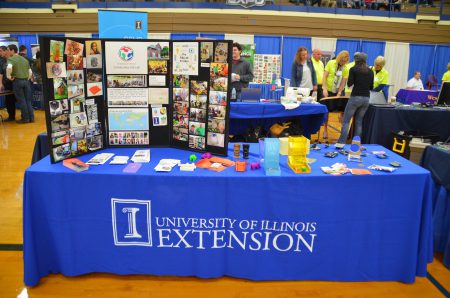 The Digital Innovation Leadership Program (DILP) is a two-year grant provided through the University of Illinois Office of the Provost and Illinois Extension and Outreach Initiative. DILP's goal is to support digital literacy education and programming throughout the state of Illinois.
DILP is an interdisciplinary collaboration that brings together a diverse array of individuals from higher education and community development. This network allows DILP to leverage resources and expertise to run programs to foster and understand digital literacy and build key community capacities by:
Providing resources for programs through partnerships with Extension, 4-H, and other community organizations
Educating educators about digital literacy programming and activities
Raising awareness with public officials about what DILP does and our digital literacy efforts
Bringing together Illinois faculty, staff, and students to apply research to practice, from across campus
Digital Literacy for ALL Learners (2014-15)
http://publish.illinois.edu/digital-literacy4all/
The project, funded by the Illinois Department of Commerce and Economic Opportunity, will be a collaborative effort involving community volunteers and five local sites that will serve as community technology learning centers in Urbana-Champaign: Urbana Free Library, Champaign Public Library, Urbana Neighborhood Connections Center, Tap In Leadership Academy, and Kenwood Elementary School.
The goal of the project, which will continue through June 2015, is to foster basic digital literacy by teaching community members technology literacy skills. This particular project is unique because it employs a project- and capability-based approach rather than a more traditional approach of teaching skills like mousing and keyboarding.
Alaska Fab Lab (2010-present)
http://chass.illinois.edu/index.php/ichass-projects/alaska-fablab/
An NSF-funded grant. The research focuses on the intersection and interaction of Western and indigenous American perspectives on implementation of science and technology. It will inquire into how Alaska Native ways of knowing and perspectives on science and technology refract a technology bundle designed according to Western logic. It will by extension explore how implementation of this technology according to Native Alaskan/Western perspectives impacts the local community. The project will utilize the creative skills and knowledge of Togiak residents to guide planning for implementation of the Fab Lab and in so doing provide additional opportunities for local community members. Togiak leaders face a number of challenges as they strive to increase benefits to low-income residents, to foster growth and job creation, provide educational and vocational opportunities to local youth, and to ensure the sustainability of isolated rural communities that are threatened by out migration, high fuel costs and limited connections with other communities due to geographical isolation. The project team sees the Fab Lab as an opportunity to provide new opportunities to residents as well as address questions concerning digital divides and cultural approaches to appropriating science and technology.