Career Fair Name Tag
My project for this week was to make an engraved name tag. My Career Fair is rapidly approaching, so I decided to make a variant of the name tags that are used in that setting to give me a creative edge in the battle for employment post-graduation. 
I began by finding the relevant documentation for the name tag inserts:
After easing into the use of Inkscape, I got to work on making my design. I wanted to maintain the name/major/date format in the original design, but try to make the text a bit bigger. This resulted in version 1 of the design: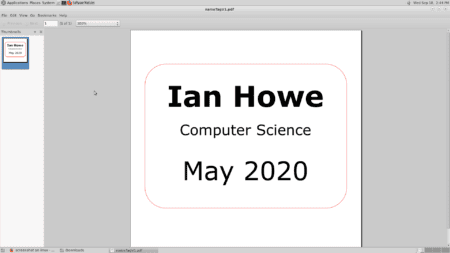 Version 1 of the nameplate, using basic text and a curved edge.
The post-production result for version 1.
The result for the first iteration had a few issues that came as a result of first-time experience in the Lab. The laser takes some time to warm up, so the top of my engraved name (notably the I and H) was cut a bit short. In addition, the laser cut had not fully burned through the top end of the 1/8 inch plywood, resulting in an unrefined edge along the top. 
Version 2 brought new changes, the most prominent being a decorative border around the outer edge of the nameplate. In addition to the border, I learned how to align objects horizontally and vertically, allowing for a more clean layout on the design.
Version 2 of the design, featuring a border and aligned elements.
Version 2 of the resulting product, with a missing section of wood on the bottom left edge.
I didn't realize until the near-end of the engraving process that my choice of wood did not give me enough room to carve out the entire piece. As a result, a small section on the bottom edge was missing from the final product. I'll look to keep a closer eye on that in the future. 
Onto Version 3! This one was focused on refining the design I already felt comfortable with. Changes include:
Adjusting the curve on the edges of the inner border to feel more aligned with the outer border
Enlarging the name and date texts to make more efficient use of the whitespace remaining withing the tag. 
Design for version 3, with adjusted text and borders.
Printed result for version 3, with no major issues or concerns remaining.