My idea for the final project was an electric guitar pedal board. I did not previously own a pedal board, and because I play guitar, it is something that I was enthusiastic about making. In all, the project involved utilizing Inkscape, Fusion 360, Tinkercad, Meshmixer, the Universal Laser Cutter, a resin printer (my new tool area), wood conditioner and stain,  plastic primer and pewter spray paint, and a hammer and finishing nails. Please see a few in-progress images below.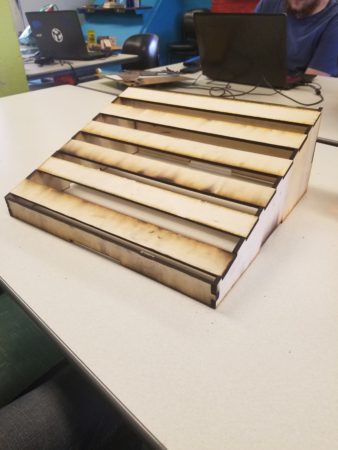 In the beginning, I had a rough idea of what I wanted the board to look like, and I am happy that the final product came out as I had envisioned it. I was planning on making a pedal board that would have dark wood and decorative metal-looking pieces on the side, and the end product definitely fits. I am also proud of the fact that I completely designed all of the pieces for the pedal board myself. I did not use any files from online, and it felt good to design the whole project from start to finish. However, even though I am very happy with my pedal board,  I did run into a couple of issues along the way. The first was that my PDF files of the pedal board were not being read correctly by the Universal Laser. I ended up fixing this by opening up my Inkscape SVGs on the laser's computer and making sure that the width and color of my lines were correct before saving the files as PDFs. The second problem was due to the strength of the wood glue that I was using. The cross panels that serve as the platforms for the guitar pedals are able to hold up to the stress of pushing the pedals down, however the wood glue that held the panels in place gave out. My fix to this problem was nailing the panels into the sides of the pedal board with finishing nails. Please see the final pedal board below.
     The first learning goal that I had for this project was to incorporate suggestions from those around me, because I think that it is easy to work to your own beat and miss out on valuable input from others. The two parts to this pedal board that came from outside suggestions are the individual cross panels and the metal-looking pieces on the sides of the board. I originally planned to make the board's top one solid piece of wood, but my roommate, Matt Goodalis, suggested that I use individual strips of wood so that any wiring could be kept out of the way. The second piece of advice came from Duncan Baird, my instructor. He introduced me to the idea of using the resin printers to make objects that I could paint to look like metal. I am grateful for both of these suggestions because they made it into my final product and led it be functional and aesthetically pleasing. By the end of the project, I also learned to further reflect on the design decisions that I make. The input from my roommate especially showed me that some designs can be improved upon if you just spend more time thinking about their practicality.
     My next learning objective was to use a new program that would help me during the design phase of this project. For this I used Autodesk Fusion 360. I found that being able to turn SVG files into 3d objects was very helpful. I was able to take my designs and extrude them, so that I could better understand how the pieces would fit together and look once I had them all cut out. But outside of these benefits that the program afforded, I was also able to develop my planning skills. I have mentioned before that my planning felt week in earlier assignments, so this program allowed me to slow down and consider the shape and measurements of my pieces further. I am glad that I created this goal for myself, because the success of this project has shown me the upsides to extensive planning before making, which I can utilize in the future. Please see an image of two of my pieces in Fusion 360 below.
     Finally, the learning objective of using new materials was satisfied through the use of resin. It was interesting to see how resin was formed in the printers, and the decorative pieces that I created definitely add an interesting dimension to the project. However, if I were to redo this project, I would use a different type of wood. I knew that I wanted to do laser cuts in order to get precise pieces, so I went to CU Woodshop Supply and Home Depot to see if there was any interesting wood that I could use. Unfortunately I could not find any quarter inch pieces that would fit into the Universal Laser, which caused me to go with the plywood staining route. As I said, I am happy with the project's outcome, but this is something that I would like to have done differently.
     Next, after reviewing my previous posts, I have realized that I tend to push myself more with a tool area once I am familiar with it. I do not necessarily think that this is a bad thing, but I could learn even more by challenging myself earlier on. That being said, I have become a lot more comfortable with making. I am majoring in political science and I am attending law school next fall, and up until this point, I have had very little experience with making because it falls outside of my studies and hobbies. Using machines like the laser cutters and the 3D printers forced me to step out of my comfort zone, and I am glad that I did. I have found that I really enjoy making, and I would like to continue doing it in the future.
     The making area that I enjoyed most in the lab was laser cutting. Besides taking a middle school woodshop class, I have not had a lot of experience with wood working, and I have grown to enjoy it. Most of the staff has a specialty area and if I were to pick one, this would be it. It was exciting to plan out projects and see them take shape while using the laser cutters. And afterwards, I brought the project into my original vision by staining and putting on the final touches. Because of this project, and the class as a whole, I feel comfortable calling myself a maker. It is not something that I would have attributed to myself in the beginning of the semester, but I have learned many new skills in multiple areas, and this final project has especially made me realize that I have the ability to create unique and useful projects. To this end, I hope to continue being a maker by engaging in more woodworking for future projects.
     Lastly, I would again like to thank Duncan Baird and Matt Goodalis, who helped by contributing invaluable ideas to this project. I am also generally happy that I learned a lot in this class while getting the chance to make new friends. Hopefully I am able to stop by the Fablab during future visits to the University of Illinois.
Continue Reading