Our task for the past 2 weeks was 3D Printing! Here's my design process from start to finish:
Week 1 was our time to experiment with 3D software and design some ideas for week two. To do so, we made a castle and an alien in TinkerCAD and Meshmixer, respectively:
With our initial practice complete, I drew up some ideas for my project:
Of these 4, I found the utensils and my utilitarian ideas to be the most interesting, so I modeled and presented those. 
Onto Week 2! 
In class, we created 3D Models of ourselves! I elected to try a pondering pose for the second model attempt, and I think it turned out quite well. 
For my final project, I decided model both of my practical designs! I felt that I could handle that since the models themselves weren't too complex, and I'd stand a better chance of success in case one of the models failed while printing. 
My refined model for the dishwasher sign included a triangle-shaped cavity to give users a better grip. This became a little tricky when creating the scaffolding for printing, as we'll see later on in this post. 
My model for the headset hanger had a 45-degree turn to it, which brought some structural integrity challenges. In addition, 45-degree angles became surprisingly difficult to work with in TinkerCAD. Luckily, I came out on top with a viable model, and I talked with Niel at the Fab Lab to ensure that I had the right print settings to make a strong piece. 
I'll demonstrate the process for each model separately, starting with the Hanger: 
Now let's move onto the dishwasher: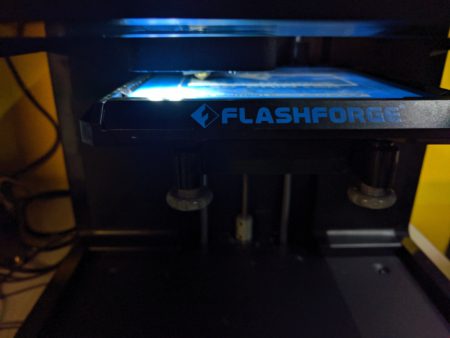 This project was one of the reasons I signed up for makerspace, and I'm glad the project turned out so well.