Lab, part one Thursday 9/26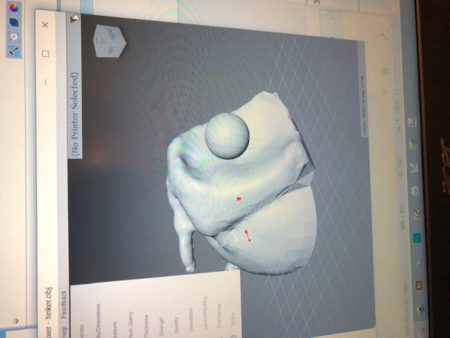 Thursday 9/26, meshmixer
sketches
Kerry James Marshall painting that I was interested in using for the third prompt. I wanted to add an apple or a book into the hands of one of the children. I was interested in this painting because it is in a library in Chicago. The library itself is really old and has marble everywhere. The branch reminds me of those banks from the early 1900s that are now converted into schools, office buildings, homes, etc.
Screenshot of my 3-D face model scan. This shows the areas where the scans were missing and could not fill in the shapes. Lab 10/3
I could not figure out how to make a diamond shape (the argyle pattern diamond shape from my drawing) on my own with the tinkercad, but I saw that they had a diamond shape. I was interested in having a diamond shape with two supporting legs, but I went with the option available to me as I was not particularly familiar with how to work the software to accomplish what I wanted in my mind.
I played with the amount of diamonds that I wanted. I made the walls thicker and I agreed to have mini-diamonds.  
Mock-up of the spider, cutlery, and the art-deco-esque bookshelf for class on 10/3
Re-design of the shelf with more diamonds
Initially, thought I would have my mini-shelf for my makeup in the designs of the above picture as I wanted something that was flat. Also, I did not originally want a makeup holder. I had wanted a mini book-shelf, but as I thought this over more, I realized that it would require a lot more work to create a mini-bookshelf and more expertise. I mentioned this idea to Duncan and Maxx and they both suggested that it would need to have mixed media as it could not all be made with the 3-D printer. Consequently, I went with an Art-Deco-esque lipstick holder. Also, I tried to play around with different shapes to see what would hold lipstick. I became really interested in using a pyramid shape so that I could stack them, but I worried that the lipsticks would fall off as the base was not particularly wide. Thus, I tried to make the divots wider. However, they did not appear to be the dimensions that I had in my head. Nevertheless, I wanted to make a test print. I decided to see if the divots were big enough with a test print, but I could not print both the pyramid and the diamond shelf. Therefore, I scrapped the idea of trying two different objects.
This shows that the pyramid structure was too big to allow for printing of it and the diamond shelf.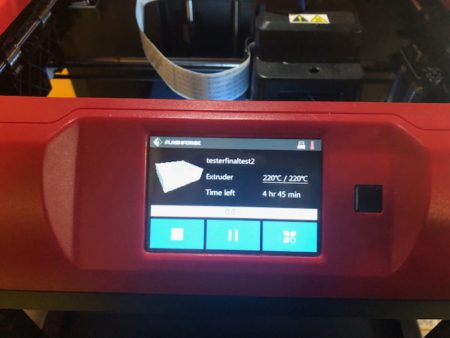 the length of time to make the diamond shelf
My attempted first print
It took several tries for me to get a finished product. I initially could not find my project on the Epique network when I went to the computer to put my file on a hard drive for the printer. This led to several minutes of going back and forth between computers to find out what I was doing wrong with the save process.
Additionally, I had tilted the shelf (to try to create my original idea of it being held up by two support beams) and it was suggested to me to just lay the object flat to eliminate the need for support beams. As a result, when this was changed, for easier printing, it created hassles for several of the prints.
For instance, the picture above shows that the 3-D printer was having a hard time printing the diamonds. The parts were frayed and weren't melding together. Thus, this print was cancelled. It was decided that a raft would be a way to stabilize this problem. However, the second print had the same issue. When we went back to the original print on the computer, even though the shelf was laid flat, it was still levitating off the print surface, so that is why the diamonds were not stable.  
This took approximately 4.5 hours to print. If I were to do this assignment again, I would get rid of the mini-diamonds or make one or two small ones. I would have three or four large diamonds. Some of my lipsticks were too round to fit into the holes. Overall, I am pleased with the effort. 
Finished product
<iframe width="725″ height="453″ src="https://www.tinkercad.com/embed/4lhdzTf1eYk?editbtn=1″ frameborder="0″ marginwidth="0″ marginheight="0″ scrolling="no"></iframe>